Updated July 15, 2014: Added the VK logo to the icon sets.
I'm a lover of translucent icons and their versatility, so I created sets of both dark glass icons and frosted glass icons. The icons come in 2 sizes, 48×48 and 64×64, and I optimized the PNGs using PNGout.
There are 98 social media icons in each set, and all 4 sets are available for download in a ZIP file (below the long, icon-filled image). At the end of this post is a list of all the icons, some of which have more than one version.
These glass social media icons are free for personal and commercial use. No attribution required (though it's always appreciated). Please do not distribute these icons, modify them, claim them as your own, or resell them in whole or in part. If you'd like to recommend my glass social media icons to others, feel free to link back to this blog post.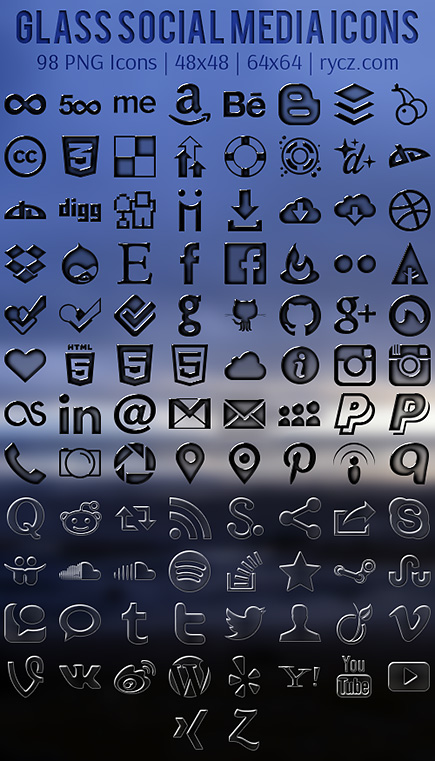 The glass social media icon sets include:
500px (2)
about.me
Amazon
Behance
Blogger
Buffer
Coroflot
Creative Commons
CSS3
Delicious
Design Bump
DesignFloat (2)
Designmoo
deviantART (2)
Digg (2)
Diigo
download icon (3)
Dribbble
Dropbox
Drupal
Etsy
Facebook (2)
Feedburner
Flickr
Forrst
Foursquare (3)
GitHub (3)
Google+
Grooveshark
heart icon / like icon
HTML5 (3)
iCloud
info icon
Instagram (2)
Last.fm
LinkedIn
e-mail icon / mail icon (3)
Myspace
PayPal (2)
phone icon
Photobucket
Picasa
pin icon (2)
Pinterest
podcast icon
Qik
Quora
Reddit
retweet icon
RSS
Scribd
share icon (2)
Skype
SlideShare
SoundCloud (2)
Spotify
Stack Overflow
star icon / favorite icon
Steam
StumbleUpon
Technorati (2)
Tumblr
Twitter (2)
vCard
Viadeo
Vimeo
Vine
VK
Weibo
WordPress
Xing
Yahoo!
Yelp
YouTube (2)
Zerply
Am I missing a logo or icon you want? Let me know in the comments so I can add it!
Related Posts